Updated November 4, 2020: Chime has raised the sign up and referral bonus from $50 to $75 until December 31, 2020. So both new Chime sign up bonuses and referrals are worth $75 each.
The Chime sign up bonus program gives new members $75 as a sign-up bonus when you join using a current member's referral, plus current members will earn a $75 referral bonus for each new member that you refer.
New Chime members can join using this Chime $75 Sign Up Bonus Link to earn a $75 welcome bonus when you receive a payroll direct deposit of $200 or more within 45 days from when you opened your Chime Banking Account.
Please read the fine print on the bottom of the referral link's landing page for details about the $75 Chime bank referral bonus promotion.
About Chime Bank
Chime is an online-only bank with none of the typical banking fees that comes with a Chime Visa Debit Card, a Spending Account, and an optional Savings Account that are all easily managed through their website and mobile app.
A Chime account doesn't accrue monthly service fees, has no minimum balance requirement, no overdraft, no foreign transaction fees, no transfer fees, and over 30,000 fee-free ATMs from where you can withdraw cash.
Moreover, when you join Chime, you are opening a Spending Account that comes with a Visa Debit Card, which allows you to manage and spend your funds just like with a checking account.
Nonetheless, if you opt to also open Chime's Automatic Savings Account, you can set up an automatic savings plan to grow your savings.
Download the Chime mobile app so you can access your account balances from anywhere, get transaction alerts, transfer money instantly, as well as deposit paper checks.
Plus, you can earn $75 in Chime bonus cash for each friend that you refer who opens a Chime banking account, and others who you refer will earn a $75 promotional bonus when they join using your referral.
$75 Chime Sign Up Bonus for New Customers
Sign up via this Chime $75 Referral Bonus Link to get a $75 bonus when you apply for the Chime Spending Account.
In order to qualify for the $75 Chime welcome bonus, you must enroll using the above referral, successfully pass ID verification, and receive a payroll direct deposit of $200 or more within 45 days from account opening.
When the new customer completes the above actions, both parties will qualify for the $75 rewards.
Chime $75 Referral Bonus Program
The Chime Referral Program offers current clients a $75 Chime promotion for each new customer that you refer who signs up for a Chime account.
Plus, new customers will also receive a $75 Chime sign up bonus, so both the referrer and referee benefit from the program.
Refer your friends so both of you can earn a $75 Chime sign up bonus. If you sign into your Chime account, you can find your referral link at the bottom left of your Chime account under "Invite Friends".
Referral Program Terms
In order for both parties (the referred person and the referring Chime member) to qualify for and receive the $75 referral reward, the following conditions must be met:
The referred friend must open a new Chime Spending Account using the referring Chime member's unique referral link and receive a payroll direct deposit of $200 or more within 45 days of Chime Spending Account opening.
The payroll direct deposit must be made by an employer or payroll provider by an ACH deposit. Bank ACH transfer, Pay Friends transfers, verification or trial deposits from financial institutions, transfers from PayPal or Venmo, and cash loads do not qualify as a payroll direct deposit.
Referring Chime member must be part of the $75 for $75 referral reward campaign in order for both parties to be eligible for the $75 Chime referral reward.
The referral reward is paid to both parties within two business days after qualifying funds are first deposited into the referred friend's Spending Account.
Eligible referring Chime members can earn no more than $1,000 in referral rewards per calendar year (January 1 – December 31).
Chime Spending Account & Visa Debit Card
When you open a Chime account online, you'll get a Spending Account with the Chime Visa Debit Card.
There are no minimum balance requirements, no monthly service fees, no transfer fees, and no other hidden fees.
The Chime Spending Account makes managing your money easy from anywhere in the world via the Chime App.
If you set up a direct deposit to your Spending Account, you can get paid up to 2 days early.
You can use the Chime Visa Debit Card anywhere Visa debit cards are accepted around the world with no foreign transaction fees.
With Chime's new SpotMe feature that provides fee-free overdrafts, you don't have to worry about paying a large fee if you go a little over your budget.
All of your deposits are FDIC insured for up to $250,000 through The Bancorp Bank.
Don't forget to activate Chime card after your receive it using the mobile app or activate Chime card online using chime.com.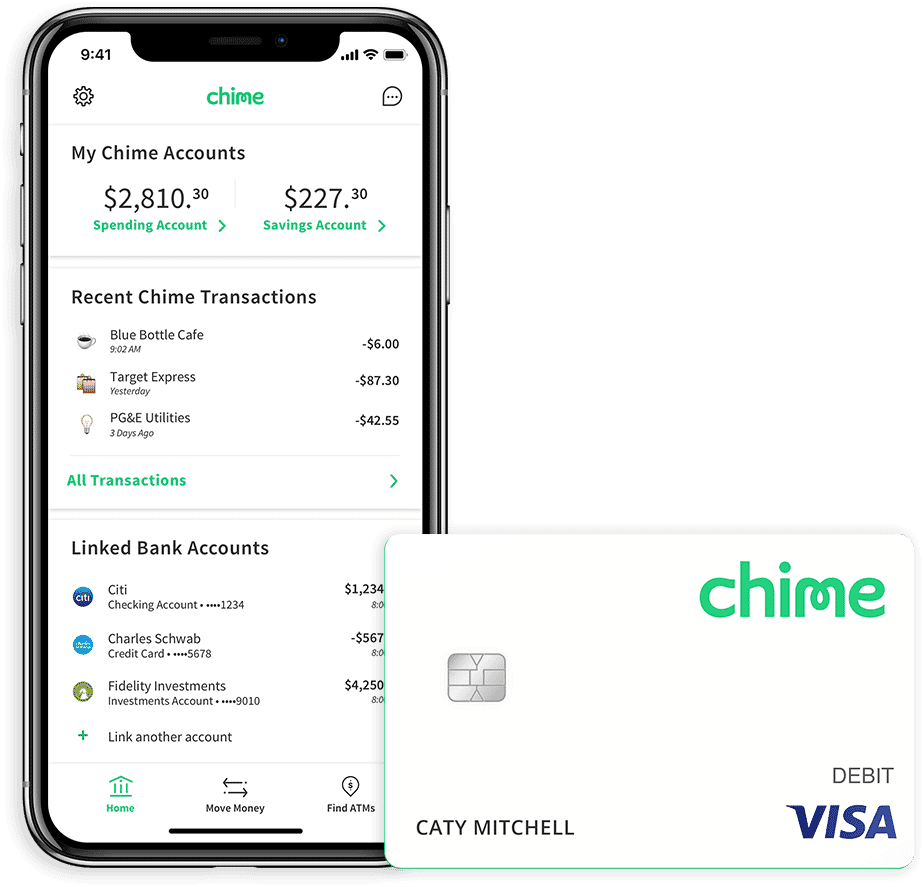 Chime Automatic Savings Account
The Chime Savings Account is a free automatic savings account that allows you to set money aside for any financial goals that you are working on.
You simply enroll in Automatic Savings for free, and you'll then save money automatically with every Chime debit card purchase that you make or when you direct deposit your paycheck.
Moreover, whenever you make a purchase with your Chime Visa debit card, Chime will automatically round up each purchase to the nearest dollar and transfer the round-up amount from your Spending Account to your Savings Account.
Also, you can also activate a feature to automatically transfer 10% of every paycheck directly into your Savings Account, so that you can achieve your financial goals faster.
The Chime Savings Account is a free and optional account that you can activate once you open your Chime Spending Account with the Chime Visa Debit Card.
Check out other online-only bank accounts that are offering the best sign up bonus: $100 Varo referral bonus and SoFi Money $25 bonus. Moreover, if you're looking for a solid brokerage account, check out M1 Finance. They are currently running a promotion that pays a $20 sign up bonus.